Cleaning methods and protective treatments
General information on cleaning, protecting and maintaining natural stone
High-quality and exclusive materials are increasingly being used in gardens and terraces to create an individual atmosphere. The choice often falls on natural stones, which are a sought-after material for façades, terraces and staircases. If you want to enjoy the material for a long time, you should already inform yourself about cleaning possibilities and protective treatments when choosing the material.

From a technical point of view, the following happens:
Natural stones are permeated by capillaries and pores. In this system of cavities, the transport of impurities from the subsoil, the surface or dissolved substances inherent in the stone takes place. This also applies to granites or gneisses, which give a very robust impression. The diversity of natural stone is reflected not only in its appearance and texture but also in its strongly varying capillary absorbency, which causes its sensitivity to stains.
Counteract staining with an impregnation
In connection with an intensively used terrace as an extended living space, the demands on cleanability increase. If you want to maintain the value of natural stone in the long term, treat the surfaces outdoors with an impregnation. This prevents staining by reducing the deep penetration of dirt. Impurities are kept on the surface, where they can be removed more easily.
Due to the low weather constancy in the summer months, we recommend water-based impregnations such as Lithofin STAINSTOP >W< and Lithofin Splash-Stop >W<. This product group reacts less sensitively to residual moisture than, for example, solvent-based products.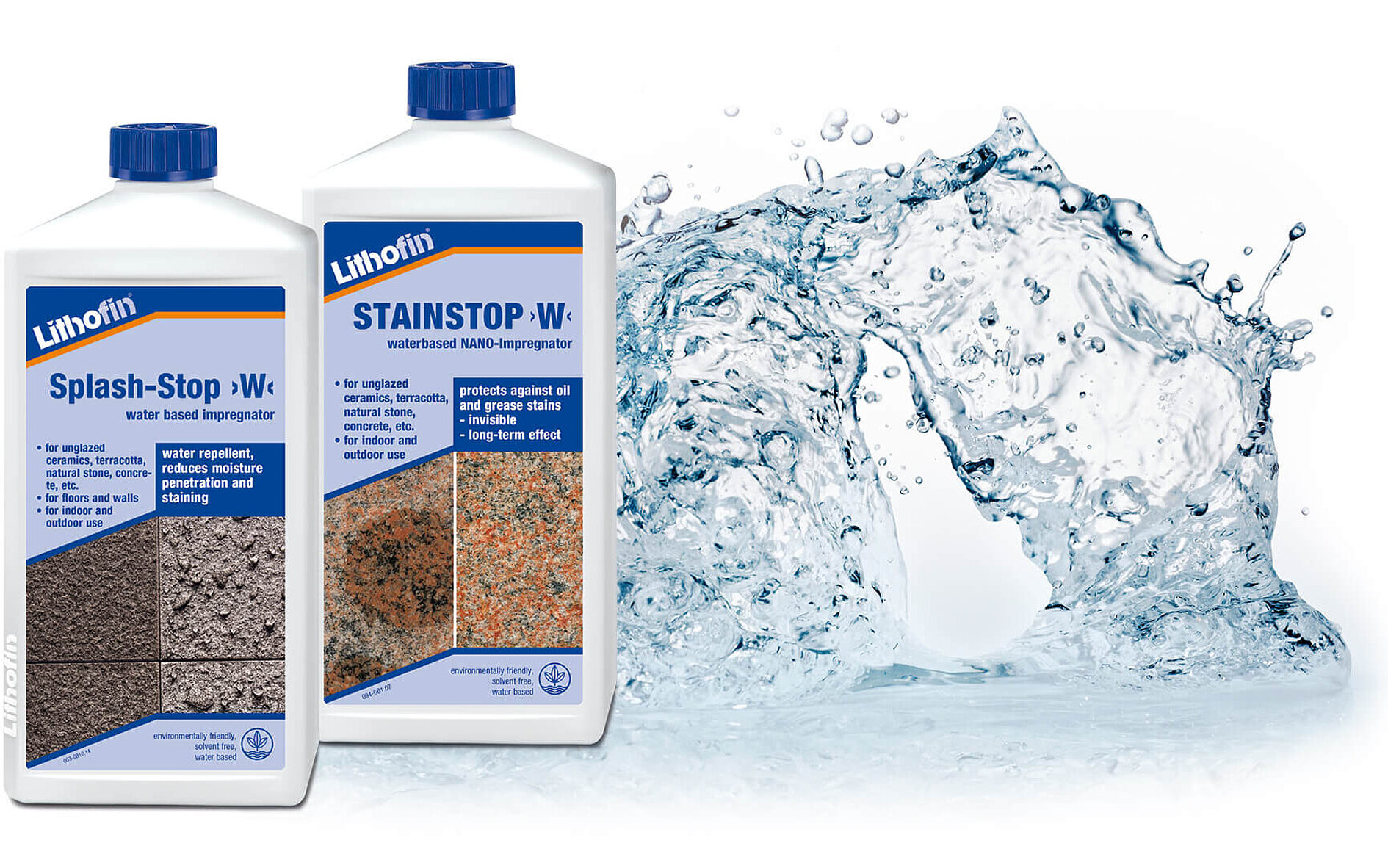 How can I avoid the risk of stains caused by rising moisture?
When laid unbonded in flint, sand or gravel, water usually gets under the covering via open or permeable joints. Insufficient drainage capacity of the ground or insufficient slope leads to moisture remaining under the slabs.
The capillary absorbency transports moisture to the surface, where it shows up as dark stains. In order to prevent moisture problems with unbonded installation, it has proven useful to treat the tiles all around with the intended impregnation such as Lithofin STAINSTOP >W< or Lithofin Splash-Stop >W<. This measure reduces the capillary absorbency and the risk of stains caused by rising damp.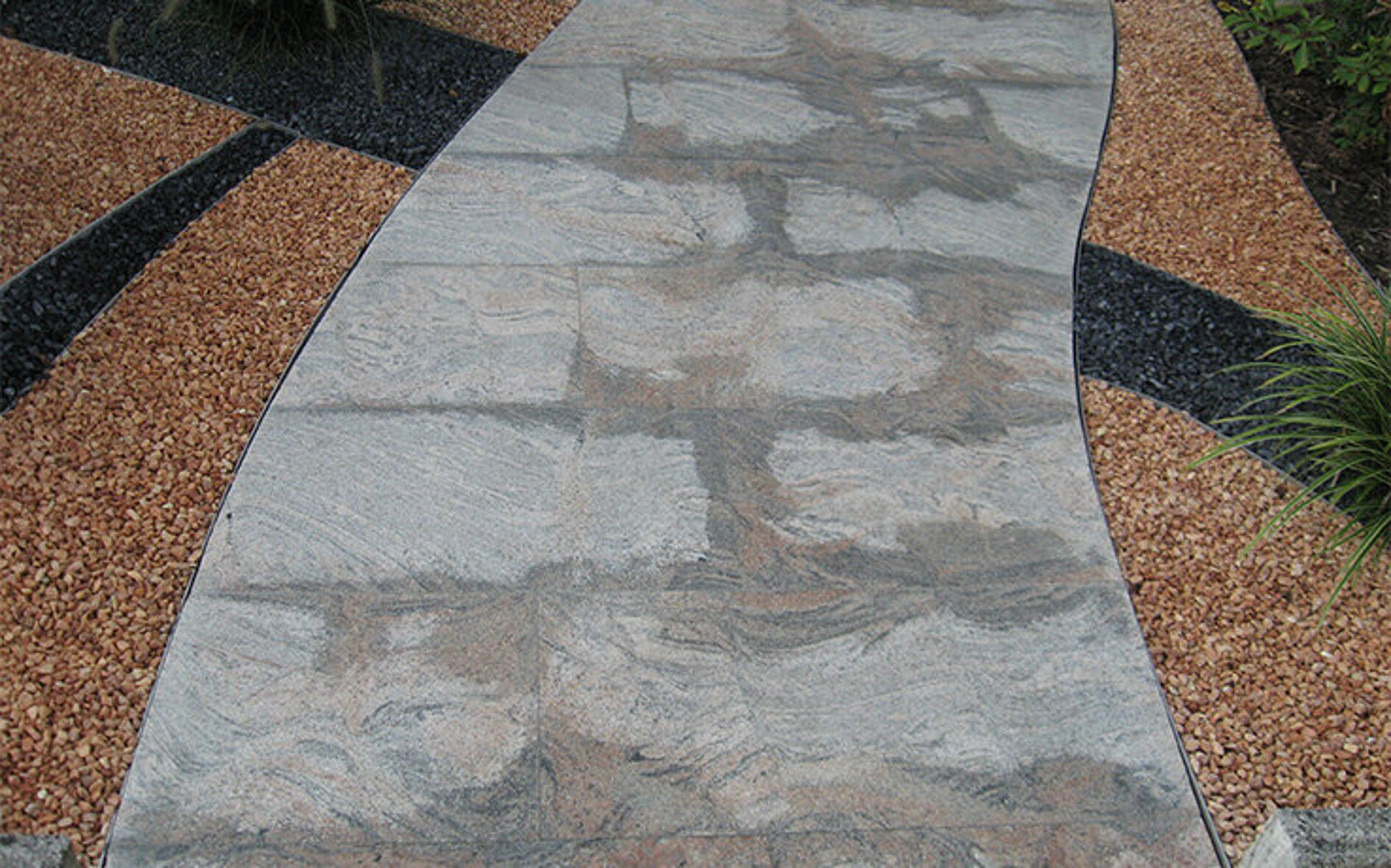 Simplify washing off of jointing compounds with pre-impregnation
Lithofin FLECKSTOP >W< is suitable as a pre-impregnation. A positive side effect is that jointing compounds are easier to apply and wash off, as their adhesion to the surface is greatly reduced. Especially paving grout is easier to apply and it prevents thicker binder films / uneven darkening. The aspect of flank adhesion was consequently examined in greater detail. The corresponding measurements confirmed that the adhesion of the paving grout met the necessary requirements also when using Lithofin FLECKSTOP >W<.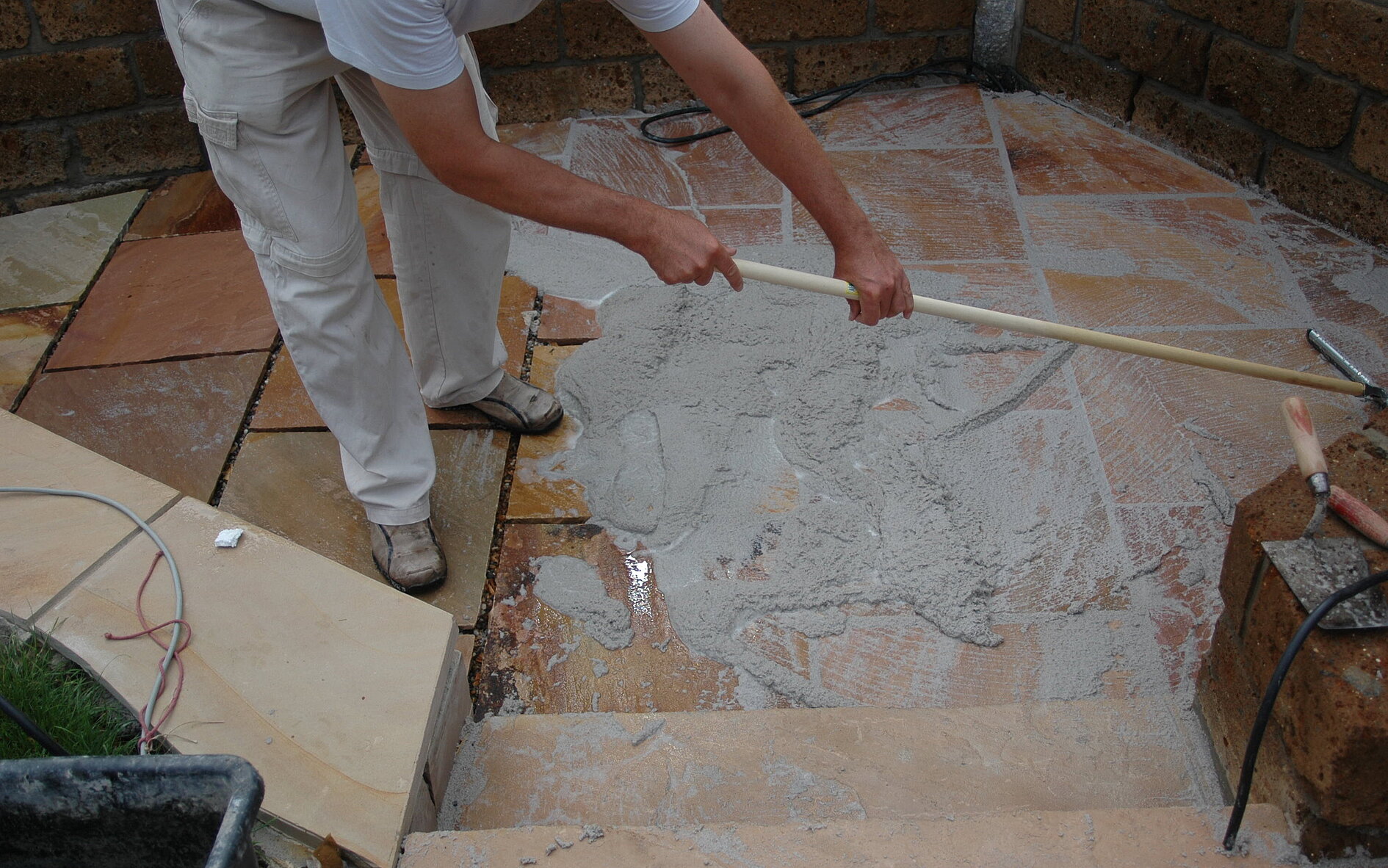 Which impregnations for outdoor use?
Gardens and terraces are increasingly being designed with exclusive materials. With impregnation, lasting protection can be guaranteed even before installation. For outdoor use, we recommend water-based impregnations.
Lithofin STAINSTOP >W< has an oil and water repellent effect and is suitable for intensively used outdoor surfaces. Lithofin Splash-Stop >W<, a purely water-repellent special impregnation, is rather chosen when the surfaces are exposed to light soiling or only moisture. These are in particular paths, walls, cover plates, etc.
Do you have any questions? We are happy to help you